"What was to be done? To turn and fly was now too late; and besides, what chance was there of escaping ghost or goblin, if such it was, which could ride upon the wings of the wind?" -Washington Irving, The Legend of Sleepy Hollow
There are few things as frightening as a ghost that can haunt and kill without necessity of a head. The original text of "The Legend of Sleepy Hollow" was included in The Sketch Book of Geoffrey Crayon, published in 1820. Set in the 1790's, Legend follows the story of Ichabod Crane, a nervous schoolmaster. Ichabod relocates to a glen of Tarry Town called Sleepy Hollow, where he encounters the horrific tale of the Headless Horseman. In 1999, Tim Burton released his own adaptation of the story starring Johnny Depp as Crane, a forensic investigator from New York. Burton's story, though it deviates from the original, was an amazing romp. The visuals and atmosphere were particularly notable. "The Legend of Sleepy Hollow" is one of my favorite scary stores of all time so I've chosen Burton's film for this installment of Design Dissection.
From the first, Sleepy Hollow swaths the viewer in a dusty, faded shroud of terror. We're party to the first killings of the horseman against a tumultuous evening sky. Gelatinous blood splatters on the foreboding face of a scarecrow and the stage is set. The promotional title is wrought in a jagged, heavy-inked script, a typeface that looks like the writing of calligrapher who is under great emotional distress. The tails on the font are drawn down like the slice of a blade, most apropos. The film titles are aged but elegant in serif small caps. Text appears against shots of the New England countryside and the hurried trek of a carriage. The letters react to their visual field, fading like fog, wavering like sun through the trees, and falling like autumn leaves.
Costuming is period appropriate. The men wear breeches, buckled shoes or riding boots, longcoats, cravats, and powdered wigs. The women are laced in corsets, their dresses flaring in large bells. To match the atmosphere, everyone seems washed out, something that gives the red of spilled blood even more impact. An interesting color note; most of the blacks in costuming and even the sets are a dusty tone, more like charcoal. True blacks are used sparingly. The overall feel of the film is reminiscent of an early 19th century portrait or perhaps a folk-art painting. The sets, even those 'out of doors' are intimate, like a stage production (as is natural considering nearly everything was filmed inside a studio building). The cinematography places actors and structures like elements of a folksy illustration. Symmetry is used as a character itself, creating stiffness and tension against the wispy mist and twisted trees.
The Headless Horseman merits mention all to himself. The costume designer, Colleen Atwood, did a magnificent job with the wardrobe. The 'Hessian' looks all the part of a long-dead phantom with a worm-eaten cape and body armor in a perpetual coating of Hudson Valley mud. Though otherworldly, the horseman is all too real, from his thorny spurs and snake-hilted sword to his frothing black charge. The hellfire is in the actions of this ghost, not spewing from the nostrils of his horse.
As I mentioned before, Burton's film is faded and weather-worn. Grays, browns, sun-bleached blues and yellows are abound. The reds are artificial, like the stain of old rouge on a powder-white cheek. The startlingly clean and soft hair treatments and luxurious wardrobe fabrics add a softer touch to the textures of the film. Without them, we would have only element-tortured wood and leaf-littered forest floor.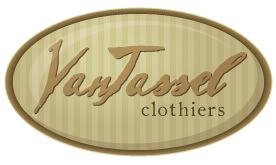 It's easy to get bogged down in the theme of a film like this and find it difficult to appreciate the elements and feel on their own. As usual, we will start with typefaces. Inked scripts like the one used for the promotional title can conjure a few things. Scripts in general are more organic, as one might expect from something patterned after handwriting. Calligraphic scripts are elegant; simple ones appearing masculine while those with long sweeping tails can seem more feminine. Meter of stroke is important as well. The typeface used for the promotional title is thick as if the stylus was held with the wide part of the nib perpendicular to the baseline. The ink flows freely and heavily. For this reason, the words aren't always easy to make out at a distance. Usage should be contained to one or two words. This breed of script would be good for masculine branding and perhaps a fine clothier or a pub-like eatery.
The film titles are done in a serif font that appears to have oxidized over time. The strokes waver, but remain strong. This type of lettering is useful for blocks of text as well as names and titles. As a basic serif, the uses are endless, but this one, with its added age character, is especially good for things relating to 'old world', antique, or well-worn and treasured items. This face would be appropriate on materials for a high-end furniture store, attractions relating to history, financial institutions, or blogs.
Atmosphere is key in designing with Sleepy Hollow elements. As stated above, the feel of the film is heavy, foreboding, and misty, yet artificial and nonthreatening; much like the Hammer films that lent Burton inspiration. Lighting remains soft and mostly even. This lighting can be used to decrease the dark sharpness of any design and is good for things that need to appear aged or vintage. Use colors, textures, and effects that play up and with diffused light. Use black perhaps only in logos, accent items, or text.
Speaking of colors, Sleepy Hollow presents a rather muted rainbow. Presumably set in late autumn/early winter, the colors are washed out and heavily tinted brown. Colors like these, again, are good for vintage schemes, but also for earthy palettes and seasonal items. Textures are those of era-appropriate fabrics and furnishings. Damask print, faint stripes, satin, lace, and rough wood can be used to infuse any design with a late 19th century Hudson Valley feel. Low contrast patterns are excellent as backgrounds for web sites or print media. Don't be afraid to use wood grains in these schemes as well.


When decorating a space in Sleepy Hollow style, remember it only takes a few steps too far to lose your head. I suggest this look for a dining area, living room, or bedroom. For this example, I've chosen a living room with a fireplace. Start with neutral walls in your preferred film hue. Pale mustard, muted moss, or misty gray blue would be nice. Choose an accent wall and adorn with a damask print (or a black and white stripe, something featured quite a bit in Burton design) that coordinates with the other wall colors. For furniture, choose classic pieces but nothing overly ornate. Wood constructed lounge chairs work well, as do spindle-back chairs and benches. This time period was reserved in a lot of respects; the simplicity in furnishings due partially to availability of supplies and labor in the small farm towns.
For window treatments, I suggest plain drapes that extend to the floor in a coordinating color. Hang these from a wrought-iron-looking rod with swirled finials. (Tim Burton's style often includes swirls.) Rustic paneled shutters would work too. Wall adornments should be sparse. If you wish to hang art or mirrors, choose modest frames. Electric wall sconces or 'wireless' ones with large candles or oil lamps would be appropriate. Choose a sconce that is antique in design. Table and floor lamps would be nice, perhaps ones with a rustic iron finish. Built-in bookcases in stained wood are optimal, ones with decorative molding at the top and bottom. Hide the bottom shelves (if you have some) behind modest doors, perhaps inlaid with the damask pattern from the walls. This shelving should frame the fireplace, the mantel being understated but still maintain a presence
Texture is always important. As I've stated before, bare rustic wood is fitting. You can upholster modestly in stripes and less modestly in leather. Instead of heavy upholstery, consider cushions in muslin or pillows in quilt prints. Wood floors are best, but area rugs in understated 'oriental' patterns can add the right touch regardless of flooring.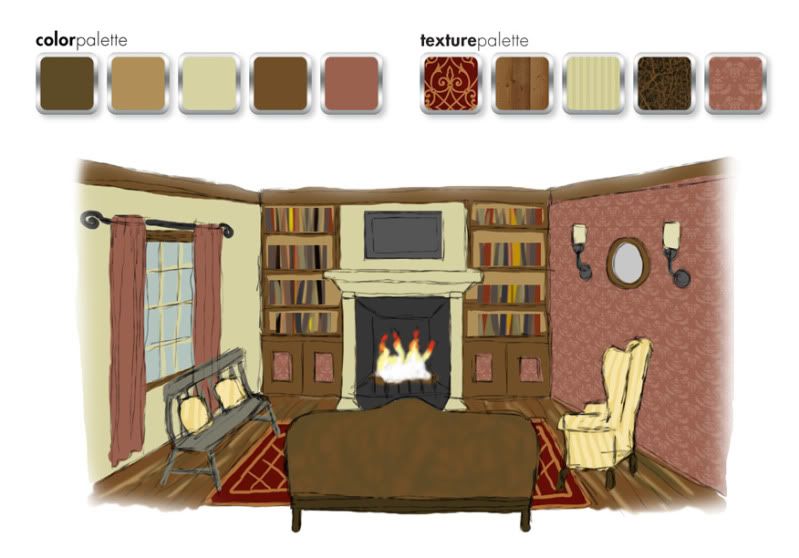 A gore-filled film about decapitation is a treat on Halloween, but the design is just the trick for all kinds of looks. So when the air gusts cold and the Jack-o-lanterns burn, cast an eye to the western woods and capture some chilling design inspiration.