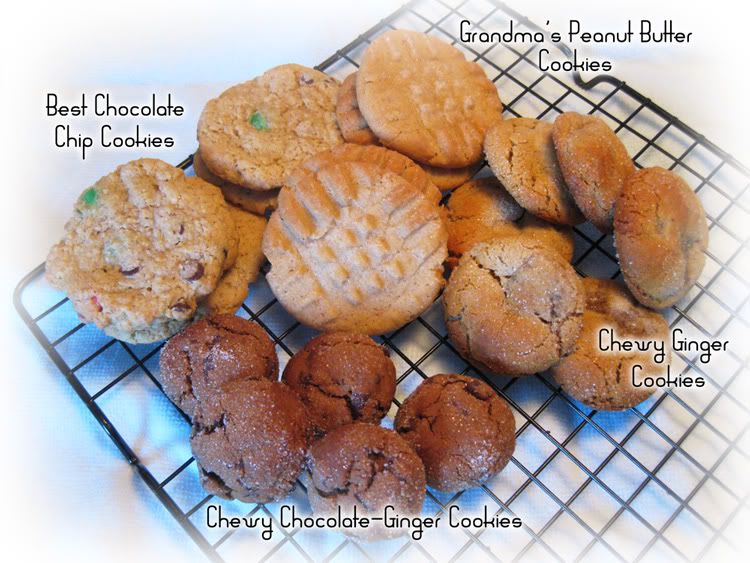 I thought I'd deviate from the art and design world for a moment and post some of my favorite cookies recipes. Baked goods make great gifts for almost everyone. All of these would be great with a hot cup of coffee or tea. Celebrate the season by getting creative in the kitchen and have a wonderful holiday!
Best Chocolate Chip Cookies
I like this cookie for a number of reasons. The chopped oats add extra nutrition and a soft, nutty flavor. I like to add whole wheat flour when I can and reduce sugar. I call these my healthy pleasure.
1 c butter
1 c sugar (3/4 c for lighter taste)
1 c brown sugar
2 eggs
1/2 tsp vanilla
2 c flour (optional: 1 c all-purpose, 1 c whole wheat)
2 1/2 c quick oats *
1 tsp baking soda
1 tsp baking powder
1/2 tsp salt
8 oz chocolate chips or candy-coated chocolate pieces (For the cookies in the photo, I used both candy-coated chocolate pieces and mini chocolate chips.)

Cream the butter and both sugars. Add eggs and vanilla. In a separate bowl, combine flour, oatmeal, baking soda, baking powder, and salt. Mix dry into wet ingredients then add chocolate chips. Roll into teaspoon-sized balls, flatten in your palms, and place two inches apart on a cookie sheet. Bake for 10 minutes at 375 °. Cool on wire rack.
*Place measured oats in blender or food processor and chop into a flour-like powder.
This cookie is a hit and they never last long. For a lover of ginger, they're a soft wonder enrobed in caramelized sugar. Another not, when made at a reasonable size, each cookie works out to 1 point in the Weight Watcher's point system.
6 tbls butter, softened
2/3 c sugar
1/4 c molasses
1 egg
2 c all-purpose flour
2 tsp baking soda
1 tsp ground ginger
1 tsp ground cinnamon
1/2 tsp ground nutmeg
3 tbls sugar

Cream butter; gradually add 2/3 cup sugar, beating until light and fluffy. Add molasses and egg; beat well. Combine flour and next 4 ingredients; gradually add to creamed mixture, stirring until well blended. Wrap dough in plastic wrap, and freeze for 30 minutes. Shape dough into 1-inch balls, and roll in remaining 3 tablespoons sugar. Place 2 inches apart on cookie sheets coated with cooking spray. Bake at 350º for 12 minutes or until lightly browned. Remove from sheets; cool on wire racks.
Grandma's Peanut Butter Cookies
The is the recipe my grandmother and I used to bake when I was a child. They hold a special place in my heart. They're not overly nutty, but just enough. Baked just right, they melt in your mouth!
1 c sugar
1 c brown sugar
1 c butter (or 1/2 c butter and 1/2 c shortening)
1 c peanut butter, crunchy or creamy
2 eggs
1 tsp vanilla
3 c (approximately) all-purpose flour
2 tsp baking soda
1/8 tsp salt
Combine sugars and butter, beat until creamy. Add peanut butter, eggs, and vanilla. Combine dry ingredients in a separate bowl and add to peanut butter mixture gradually. Roll teaspoon amounts of dough into balls and place on a cookie sheet. Dip a fork in sugar and make a crisscross pattern on top of the cookie, flattening slightly. If dough is too sticky to roll immediately, refrigerate for about 30 minutes before rolling. Bake in a preheated
350º
oven for 8 to 12 minutes or until lightly browned around the edges. Cool on wire rack.
Chewy Chocolate-Ginger Cookies
I decided to try this recipe (I usually don't like Martha's recipes) and I'm glad I did. I love the heat brought by the fresh grated ginger. They're especially nice with a nice steaming cup of artisan dark roast coffee!
You can find this recipe at here through Martha Stewart's Web site.