Autumn gives spring a run for it's money when it comes to color. The majestic displays of harvest have few rivals in the beauty department. When we think of autumn, we usually think of golds, reds, oranges, and browns. Perhaps we throw in a bit of yellow-green for good measure. But autumn holds a secret, a small clutch of color that's often overlooked because the competition is so energetic. I speak of the pale dusky lavender of the Mistflower.
A late-blooming perennial, the Mistflower can be found in fields, on the roadside, or in the wooded areas. It has a head of bunched flowers in delicate purple with wispy star-burst petals. A color like this is almost guaranteed to calm. It's soft and cool, but not cold thanks to a slight tint of purple. Mistflower would be perfect for a children's store logo, a country-themed craft business, or a yoga web site. Though blue is often considered masculine, this color is a bit more feminine and can add gentleness to logos, promotional materials, web sites, or rooms.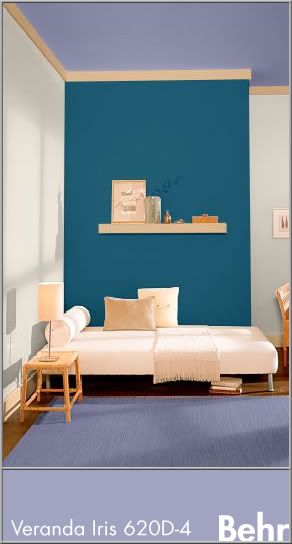 When using Mistflower in interior design, it's important to remember the attitude of the color. As stated above, Mistflower is calming with a hint of warmth. It doesn't have quite the warmth of lavender, but it's perfect for bedrooms, baby's rooms, and odd spaces like entry ways. Use this color where you'd like a bit of peace. In the samples, two tones of Mistflower are used. In the first sample, a bedroom, the ceiling and corresponding rug frame an accent wall in cool peacock blue. A fruity, buttery peach adds warmth on the trim and in the linens with a luke-warm white rounding out the wall color.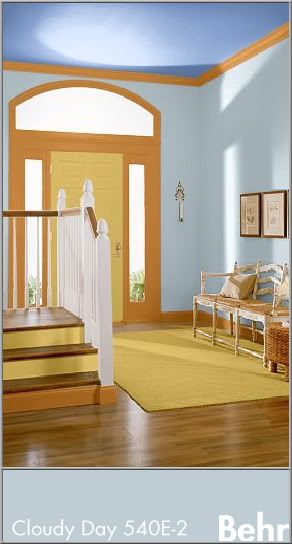 This entry way uses a slightly more blue version of our color on the walls. A darker Atlantic blue deepens the ceiling. The warm golden oak wood of the door frame and trim pairs well with the wheat on the door, carpet, and staircase insets. Though the walls and ceiling are blue, traditionally a cold color, the entryway is warm and comforting. It's just the right recipe to welcome those who enter the home.
When the wind whistles chilly and the trees are set aflame by season's change, remember that autumn's splendor isn't always in drapes of crimson and gold. The next time you need a color with just the right balance of warmth and serenity, give Mistflower a try.
Patterns sampled from here.