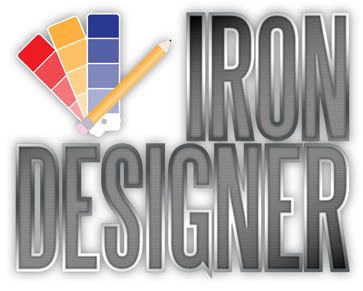 Happy New Year everyone! Let's start out the new year with something appropriately new. Iron Chef is a popular cooking contest where chefs are charged with creating amazing dishes with a special, secret ingredient. The world of design is a lot like Iron Chef. Oftentimes, designers are broadsided with the most random and inexplicable requests. The best designers, like the best chefs, are able to think on the fly and use what they've got to create something wonderful. Based on this principle, I created Iron Designer. I picked an 'ingredient' and did illustrations, graphic design, and a room design around that ingredient.

Avocados are one of my guilty pleasures. I love everything about them. It would stand to reason I also love guacamole. Using guacamole as a starting point, I first created some illustrations freehand in Illustrator. I used
this
watercolor method tutorial to sketch out the ingredients in guacamole. From there, I tiled the items into a vector pattern, creating what I call 'lickable wallpaper'. Did I mention I liked guacamole?
Moving from the illustrations to the colors, I created a room design scheme. A kitchen would have been a natural room to choose, but I wanted to show the versatility of the colors. Here, I showcased the buttery green of the inside of the avocado (Behr: Citron 400B-4), accented in the ceiling wells by lime zest (Behr: New Green 420B-6), and crowned with rich red onion (Behr: Cranberry Splash 120D-6). The sofa, I slipcovered in a stripe of a lighter onion hue. The throw pillows and accent items use blocks of the green and purple with a punch of tomato.
From colors, I moved to texture. The avocado-skin background helped me create this web site design for the fictitious coffee shop, Javavoom. Again, I wanted to show how the colors and textures of guacamole could be used in something that wasn't directly related to the food. Inspired by guacamole's fresh and spicy nature, I chose a free-flowing script font for the logo. The static buttons pop in tomato red against the wick green content background. Rollovers flash to the onion purple, reflecting in the dropdown content.
Iron Designer is a feature I hope to continue. The next time you find yourself faced with a design dilemma that leaves a bad taste in your mouth, pull out your skills and an apron and get crackin'!