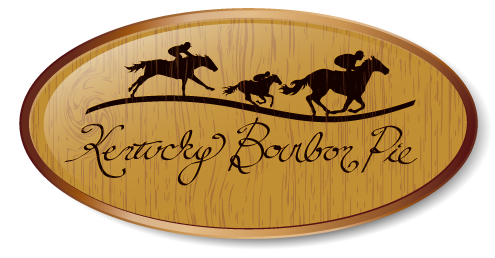 The dew hangs loosely on the petals of the red roses. Golden sun slips over the famous spires, casting a long shadow on the track. Energetic thoroughbreds in hues of golden pecan, dark chocolate, and cream are wound ready like springs. Ice tangos with mint leaves and amber bourbon. It's the first Saturday in May and something special is happening.
Every year, the world turns its eyes to Louisville, Kentucky and the most exciting 2 minutes in sports, the Kentucky Derby. At Derby time, the parties are historic, the hats amazing, and the horses spectacular. Louisville knows how to celebrate a horse race and what party would be complete without the perfect dessert.
In 1950 the Kerns at the Melrose Inn in Prospect, Kentucky created a pastry that is now synonymous with the Kentucky Derby, the Derby Pie

(© Kern's Kitchen)

, a chocolate and walnut tart. Though the Kern's pie is quite tasty with a dollop of whipped cream, I prefer the version of a chocolate nut pie I make myself. I use pecans, dark chocolate, and a shot of quality bourbon. This pie is great for any occasion, but especially on that first weekend in May.
1/2 cup all-purpose flour
1/2 cup (1 stick) butter, melted
1 shot bourbon
1 cup chopped dark chocolate
1 unbaked pie shell or 1 roll of crust
Notes: I use Woodford Reserve in my pies. If you choose to omit the bourbon, use 1 cup of sugar and 1 teaspoon of vanilla. I usually use chocolate with a cacao content of 60% or higher. If you wish to use 75% or higher, use in combination with milder chocolate unless you're looking for a stronger chocolate flavor.
Combine sugar and flour well; add eggs and melted butter. Add chopped nuts, chocolate, vanilla, and bourbon, mixing well. Pour into unbaked pie shell and bake at 325 for 40-45 minutes. Serve warm with whipped cream or for an extra fun treat, bourbon whipped cream, recipe here at Food & Wine.
This year, why not try a slice of a new tradition. Mix up a julep, pick your pony, and enjoy some Kentucky Bourbon Pie. A dessert this decadent is a sure bet!
Disclaimer: My recipe is in no way intended as an infringement on the copyright held by Kern's Kitchen.