November brings the promise of food, family, and fellowship. Many may celebrate the month and the Thanksgiving holiday by partaking in a slice of pumpkin pie. Creamy and hearty with a dollop of whipped cream, there's almost nothing that says autumn like this dessert. We may also decorate our homes with gourds of all types, a festive reminder of harvest. The earthy umber of pumpkin is a perfect hue for design.
Pumpkin is not as bright and jarring as some orange tints. When a color, especially a warm color, is used in its pure form, it can appear cheap and unnatural. Pumpkin tints orange with browns and golds to ease the brightness, but manages to stay warm and vivid. Consider the different hues of the pumpkin flesh as opposed to the inside of the gourd. The flesh is oftentimes dusted with dirt and bleached by the sun where the inside of the pumpkin is damp and saturated with color. Each of these variants can be used in design to invoke a number of feelings.
Being a warm color and taken from a food, pumpkin is great for promotional items about food and cooking. Orange is an appetite stimulator, so use with these types of things is almost a given. Pumpkin is also a bit spicy and would work well with things that need an ethnic and worldly touch. Being a shade of orange makes pumpkin an energy stimulant. Vibrant and alive, it's a perfect accent color for things you want people to see quickly. Being close in relation to the color of a basketball, pumpkin would work as a color for sports promotion as well.
Using pumpkin in interior design is a tasty treat. As it is an energetic color and on the warm side, I recommend using it in office and kitchen areas. In this office, a brighter, fresher pumpkin is featured on an accent wall. The rest of the space is done in a buttery cream and warm putty color. A light sky blue placed strategically adds a hint of wide-open relaxation to the highly stimulating work area.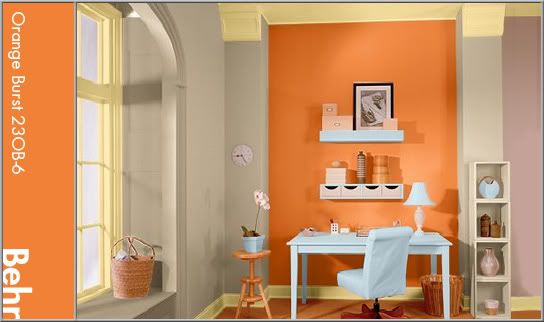 In this kitchen, the pumpkin hue is more matched to a gourd's flesh. It's a dusty, yet spicy color and plays well with the eggplant aubergine. It's used again on an accent wall as not to overwhelm. White trim pops with freshness, aided by a corn husk-like gold and springy green.
When you indulge in a slice of pumpkin pie, take in the color. This treat is more than just a slice of harvest heaven, it's ripe with inspiration. The next time you need an energetic spark of happy, try pumpkin in your design recipe.
Patterns sampled from here.