Among the artistic depictions of the first Thanksgiving shines one by 'Colonial Revival' artist Jennie Augusta Brownscombe. This particular oil on canvas (titled aptly, 'The First Thanksgiving') was painted in 1914 and published in Life magazine where it reached a wide audience. The sweeping composition and attention to detail make her view of Thanksgiving's advent particularly engaging.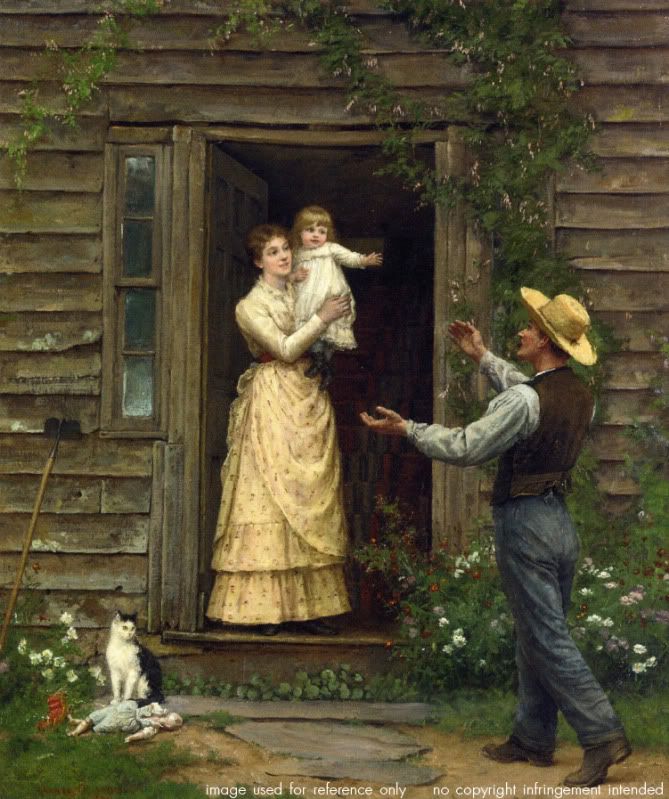 Given the distinction by some as being 'the Norman Rockwell of her time', Brownscombe was born in Pennsylvania in 1850. Her mother, Elvira Kennedy, was a descendant of an original Mayflower passenger. She was an artist from an early age and by 1868 was supporting herself with her craft by selling illustrations to magazines and licensing her paintings for reproduction. She studied in New York and France, lived in Rome and had exhibits of her work there and in London.
Studies of every day life have long been a passion for artists. There's a sense of oneness with the art when you can relate to its subject. In one piece,
we see the happy faces of a family reunited while a cat looks on, the rustic shingles on the house testifying to Brownscombe's skill.
In another,
we join a procession of colonials on their way to church on Sunday morning. It is peppered with such minute details as a branch in the young boy's hand and cattle grazing in the background. Brownscombe painted what she knew, emotions she could connect with. Her use of color was joyful and engaging, her subjects like family.
Jennie Brownscombe was a pilgrim in her own way, making a name and life for herself in a time when most women were still housewives and mothers. She tapped into a talent and nostalgia that warmed the hearts of her viewers. Artists like Brownscombe place a mirror to our lives, forcing us to see the beauty in every day. Creative types can sometimes become bogged down with visions of the fantastic. A reminder of the subtle grace of life is always welcome.