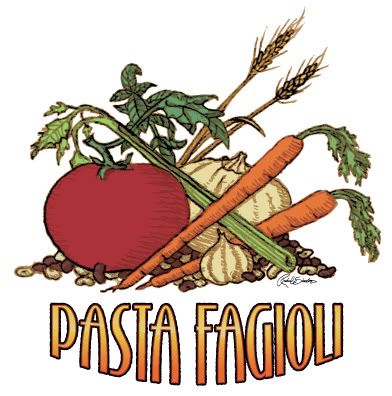 As winter approaches, we find ourselves seeking warmth. Soup is a great food for the cooler months both for its ability to warm us, but also keep us satisfied. One of my favorite soups is the Italian staple, pasta fagioli. With its bright, autumn-colored vegetables, it's not only filling, it's beautiful.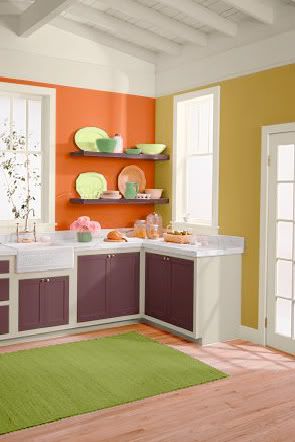 The soup has a base of tomatoes, a deep pinkish red. Add to that the translucent white of onions, the rich orange of carrots, and the wick green of celery. Great northern and dark red kidney beans round out the rustic rainbow with added spice of basil, thyme, and oregano. Use these colors in old fashioned design or anything dealing with cooking, food, or produce. In a room, the hues of pasta fagioli add lots of pop. They're bold and not for everyone, but can be a source of great interest in the right setting. The kitchen here features Behr French Pale Gold (350D-5), Startling Orange (S-G-230), Deep Garnet (110F-7), and Antique White interior flat enamel (1823).
The next time you need a hearty meal, I recommend pasta fagioli. It's fairly simple to make and can feed your creativity as well as your body. The recipe below is the one I use and was originally taken from
Top Secret Recipes
.
Pasta Fagioli
1 pound ground beef or turkey
1 small onion, diced (about 1 cup)
1 large carrot, julienned (about 1 cup)
3 stalks celery, chopped (about 1 cup)
2 cloves garlic, minced
2 14.5-ounce cans diced tomatoes
1 15-ounce can red kidney beans (with liquid)
1 15-ounce can great northern beans (with liquid)
1 15-ounce can tomato sauce
1 12-ounce can vegetable juice (such as V-8)
1 tablespoon white or balsamic vinegar
1 1/2 teaspoons salt
1 teaspoon oregano
1 teaspoon basil
1/2 teaspoon pepper
1/2 teaspoon thyme
8 ounces (around 1/2 package) ditali pasta

Brown meat in a large saucepan or pot over medium heat and drain. You can add the onion, carrot, celery and garlic with the meat, or transfer meat to a bowl so vegetables get more contact with the pan. Saute the vegetables for about 10 minutes or until they begin to caramelize. Optional: deglaze the pan with a little brewed coffee. Add the remaining ingredients (including the meat if you set it aside), except pasta, and simmer.

After soup has simmered for 45-50 minutes, cook pasta in separate saucepan until al dente. Drain the pasta. Add pasta to soup and cook for 5-10 more minutes. As an option, you can keep the soup and pasta separate as the pasta will continue to absorb liquid, making your soup thick. If you do this, add pasta to the bottom of the serving bowls, pouring the soup on top.

Serve with a sprinkling of Parmesan cheese and fresh-baked garlic or herb bread.