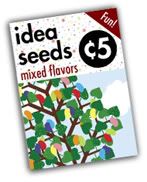 You can find them on the roads of rural America, often a line of traffic trailing. They're chugging along in the fields, left to rust next to old barns, and shined up for shows. They pull our parade floats and help plant, tend, and harvest not only our food, but our imagination. Tractors, especially 'vintage' tractors, are a wealth of nostalgia and design and that's why they're the feature of this Idea Seeds.
Some shallow research uncovers a vast world of color, design, and function. Tractors began as steam engines working in pairs. Now, a large piece of technologically advanced farm machinery can cost more than a house. These mainstays of the 'modern' farm are an indispensable part of crop production.
Since these implements took over where horses left off, there have been a large number of manufacturers. There aren't quite as many today as in years past, but that's what makes vintage tractors so much fun. The colors are varied and vibrant, the forms utilitarian, but geometric and beautiful.
What do you think when you see an old tractor? Do you envision a farmer, perched familiarly atop the metal beast, the sun in his eyes, with a field of corn in his wake? Perhaps you see an easy-going farm dog napping in the shade of an old row-crop. Maybe you focus on the design of the machine, its lines and graphic quality. And it just could be that you see generations of history in every layer of peeling paint.
I invite you to look into the world of farm machinery. Start with the old stuff (as it is oftentimes more visually pleasing) and settle in for quite a ride. You may not go over 20 miles an hour, but the inspiration you cultivate can certainly take you places.
Original vector illustrations © Rachael Sinclair
Available for purchase HERE