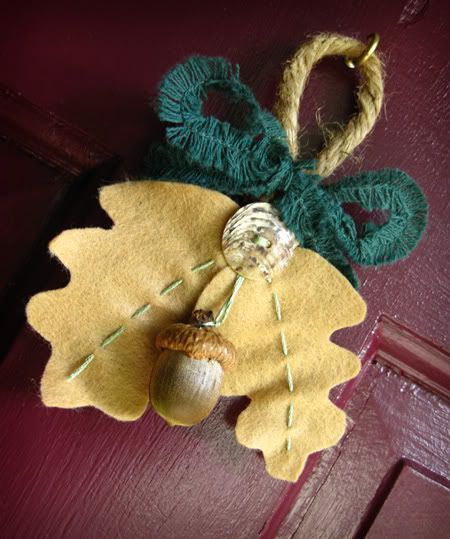 When I craft, it's a haphazard process of found objects and random purchases. The September issue of
Better Homes and Gardens
featured a great autumn décor idea: using acorns as 'ornaments' for a centerpiece. They painted their acorns, but when I found some on a walk, I couldn't bear to cover their natural beauty. I stared at the pile of them trying to come up with some crafty way to display them. And thus this project was born.

What you'll need:
acorns with caps and a bit of stem (one for each hanging, two if you're adventurous)
felt (I used a camel color to coordinate with my thread and ribbon. See below for my color palette.)
oak leaf pattern (cookie cutters work really well)
embroidery floss in the color of your choosing (mine is Sullivans #45118)
ribbon, wired or regular (I found this great frilly peacock green stuff at Michaels in the $1 bin)
heavy twine or small rope (This is Natural Jute 4 ply from Hobby Lobby)
fun medium to large buttons (these are natural shell buttons from Hancock Fabrics)

large needle

scissors

fabric pen, marker, or pencil
I first cut out the oak leaves. I used two of my cookie cutters in graduated size. Trace around the pattern then cut inside your lines. You don't want marker-tinted edges showing up in the final product. Once you've cut out your leaves, thread your needle with a length of floss. I did not separate my floss because I wanted a chunky look. Make a line of large, loose stitches from top to bottom of the leaf. Before you tie it off, cinch the thread a little to crinkle the leaf ever so slightly.
Next, cut a small length of twine and make a loop. Stack the leaf stems on top of the loop bottom and a button over where they all meet. Using the same thread, stitch through the twine, overlapped leaves, and button a few times. Make sure everything's secure. I didn't cut the thread before pulling it through the stack again, this time under the button instead of through it. I then tied the thread in a double knot around the stem of the acorn, making sure it hung just a bit under the button. We don't want to hide our pretty button! I stitched back through the felt and twine again, making sure the threads holding the acorn were equal. Tie off your thread on the back and trim.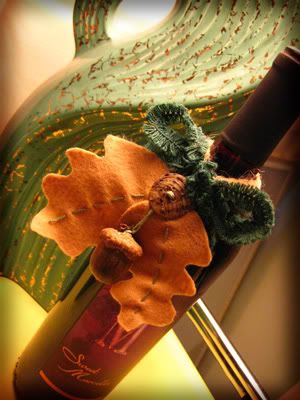 Lastly, I cut a length of ribbon and tied it in a bow around the twine loop just above the button and leaves. Your speedy autumn ornament is finished! These are great for door décor or to hang in your office to bring in the beauty of fall. Use them to spice up a gift box or bag. The loop also hangs well on the neck of a wine bottle. For something a little different, use them as Christmas decorations. Who says acorns and leaves are just for autumn? Beauty is for all seasons!