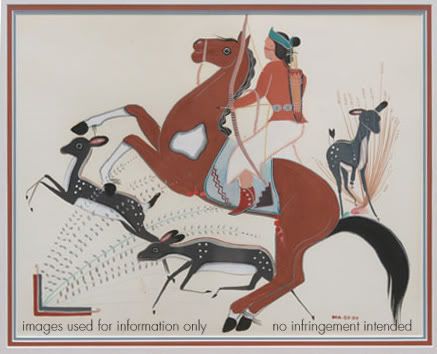 Native American art, to me, is in a realm by itself. Distinctive and storied, native work paints a breathtaking portrait of these proud and spiritual people. An episode of Antiques Roadshow
from years past introduced me to the art of Narciso Abeyta or Ha So De. Abeyta's style was a perfect mix of traditional and contemporary.
Born in 1918, Abeyta, was a Navajo 'Code Talker' in WWII before returning home to attend the University of New Mexico. He was recognized for his energetic and flowing style, one that simplified forms into streamlined swashes of color and pattern. The lines hearken back to cave paintings, something Abeyta did as a child.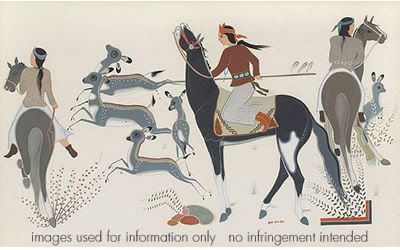 When creating, we should always be open to all sorts of influence. 'Art history' can mean a number of things. The paintings of Narciso Abeyta are at once historical, contemporary, and classic, a combination that moves the spirit and the creative juices.





Sources:
NativeWiki
,
Antiques Roadshow
Note: Cultivators of Inspiration is a feature I will continue to post from time to time. If there is someone out there who inspires you, post a reply and point me in their direction. Share and share alike!