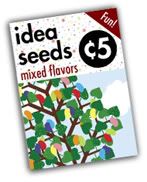 There seems to be a special place in the hearts of many creative types for the season of Autumn. Perhaps it's the colors, maybe the weather, could be the symbolism of death and rebirth. Why autumn warms us is subjective, but the season and thoughts it brings to mind are amazing. That's why I've chosen autumn as this post's Idea Seed.
Crackling fires, marshmallows roasting, apple pie, bright leaves, harvest, Halloween; autumn conjures these things out of the slowly chilling air. As August comes to a close, sit down with a pad and paper, paint and canvas, or needle and thread, and give autumn a creative welcome!
Text reads: The tiny seeds of Autumn bring the promise of returning Spring.




pattern, typography, and verse
© Rachael Sinclair 2010