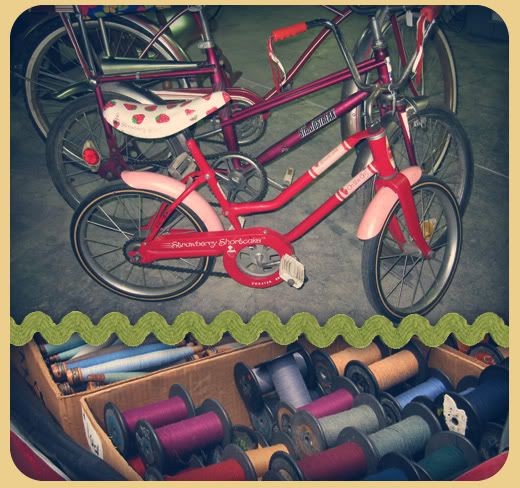 Yard sales, estate sales, and flea markets are like modern-day treasure hunts. No matter what you fancy or collect, you can find almost anything, many times for a bargain. These photos were taken on a recent trip to only a small portion of the "World's Longest Yard Sale" along highway 127. Though individual houses or neighborhoods may hold sales, the most interesting stops are the flea-market-type lots along the route. Here, vendors pay a small fee to set up shop throughout the yard sale's four days.

These types of sales are much like the hybrid of thrift and antique stores with some newer merchandise thrown in. Some vendors offer nicely set tables of wares, others are more like big purses; dig and dump. But don't be squeamish about digging. There is gold in them thar hills as they say. You never know what you may find in an old box full of junk. Getting there is half the fun, so explore. The more experience you have, the more you come to recognize potential 'good stuff'.

Bargaining is encouraged, especially if you know the market value of the item you want. If a price is too high, ask if they will negotiate. Sometimes they'll ask what price you had in mind, other times they'll offer something slightly lower than sticker. When quoting a price to a seller, try not to be too drastic. State an amount a tiny bit lower than you're willing to pay and see what happens. Asking never hurts.


When it comes to estate sales, the price is oftentimes non-negotiable, but again, it's not horrible to ask. Estate sales that stretch more than one day may discount prices on the last day of sale, so inquire about discounts if they aren't posted. Keep in mind, however, with all of these sales, something may be snatched up in seconds. If you really want an item and are willing to pay the price, grab it!

Whether you have a particular thing in mind or are just out for the hunt, yard sales, estate sales, and flea
markets are loads of fun. Yard sales and estate sales can be found in local papers or online and a quick internet search will locate flea markets in your area. These are great places for collectors or to score unique, vintage furnishings. They're also excellent troves of creative inspiration. Bring a camera or snap photos with your phone of things that inspire. Yesteryear's china pattern may someday become the springboard for an illustration or a color scheme for a web site. We all know that inspiration has a way of finding us, so take a trip to one of these sales and see if you can find it first!