The June 2010 issue of Better Homes and Gardens featured the color sea glass. Sea glass is glass from bottles, plates, windows, all sorts of sources, that has been tumbled and frosted by a time in the waves. It can be found on beaches and is collected for its beauty. With much of it hovering between green and blue, sea glass is a beautiful color for decorating as well as art. Adding this hue to your living spaces or art can bring a sense of serenity. In marketing, sea glass is used to calm the viewer as it combines the refreshing qualities of green with the relaxing touch of blue. It stands to reason the color would be popular in bedding and yoga products.

As with any color, soft
blue-greens and aquas go well with analogous hues. The bedroom here features two similar sea glass tones. The walls are Peridot (43OC-3), the focus wall Garden View (47OD-4) and the trim Magnolia Blossom (W-B-300) all by Behr.


Valspar brings us this bathroom, using the complementary tones of orange and cream. This combination is a time-tested classic. The walls are UP Oatlands Spring Kiss (5007-SB), the window Eddie Bauer Butternut (EB27-3), and the accent Eddie Bauer Zest (EB1-2).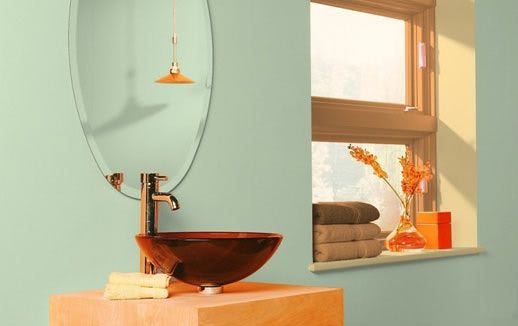 I own a few things in this amazing hue. The lamp (you see here only a portion of the base) is a vintage piece from the 60's in grayed pool blue. The bud vase a piece from much the same era featuring a charming fawn. The transparent glass object is an old electrical insulator I picked up at a yard sale because of its amazing color. The fabrics are both part of my huge calico collection.